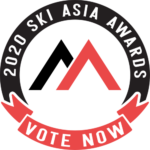 VOTING IS NOW CLOSED
As the season draws to a close in many ski resorts across Asia, it is time to reflect and recognise the ski resorts, hotels, lodges and ski schools that have delivered the best experiences to travellers.
It has been a challenging season for many operators. Resorts all over Japan struggled with a drier than normal start to the winter. And the ever-evolving situation with COVID-19 will likely be one of the greatest challenges to ever face the tourism industry.
For now, we ask you to look back at the positives – and we're sure there are many. In amongst the drama, we know there have been the usual cases of exemplary hospitality, all-time powder days, and unforgettable holidays.
To vote, simply select a winner in the relevant categories. You may skip any sections that you do not wish to vote in. We have included categories for Japan, China and Korea.
Voting will remain open until May 31. Winners will be announced in June via our email newsletter and Facebook page.
If you have any questions about the voting process, please get in touch at contact@skiasia.com. Voting will close on May 31, 2020. Voters are subject to Ski Asia's terms and conditions.