The best ski resorts, hotels and ski schools of 2019
The Ski Asia Awards were set up to recognise the top ski resorts, hotels and ski schools in the industry. Over the last two months, hundreds of skiers and snowboarders have landed on our voting pages, giving us a result from the people who really matter: you, our ever growing Ski Asia community.
Some categories were dominated by fan favourites, others were narrowly won and lost – in one case coming down to just a single vote.
We thank you for taking part in our inaugural awards, and we hope you'll find some value in seeing the best of Asia's ski industry laid out in a single page. Disagree with consensus of our readers? We'd love you hear your thoughts in the comments below!
2019 Ski Asia Awards
Japan's Best Ski Resort (Overall)
Winner: Lotte Arai Resort
Lotte Arai was an overwhelming favourite in Japan's Best Ski Resort category, which will be a surprise to some, but not to anyone who has experienced the resort's incredible powder and terrain. Just two years ago, Arai resort was completely closed to the public after sitting for 11 years in a state of abandonment. The resort opened in December 2017 under the name Lotte Arai, and has since caught the attention of many serious skiers. Reviews have been glowing.
See the Lotte Arai website for more information.
Highly Commended: Niseko United
Niseko United remains a favourite amongst our readers, and it's not hard to see why. It has earned its place as the jewel in the crown of Japanese ski resorts, and while it these days cops some criticism for being more crowded than its Japanese counterparts, it well and truly makes up for in terrain, powder, services and facilities.
Read our comprehensive guide to Niseko United.
Japan's Best Family Ski Resort
Winner: Niseko United
We included Niseko United in our list of top family-friendly ski resorts in Asia, and our readers' votes indicate they feel the same way. Niseko has loads of stuff for kids to do, both on and off the slopes, including several highly regarded international ski schools offering specialised group and private lessons.
Highly Commended: Hoshino Resorts Tomamu
Hoshino Resorts Tomamu is regarded by many as Japan's best family ski resort, but on this occasion missed out narrowly to Niseko. It is a resort in every sense of the world, with impressive facilities and services for its guests. In addition to the excellent skiing, kids will love Mina-Mina, a large "indoor beach" with a wave pool that operates all through winter. The resort is also known for its Ice Village, which features a large slide and an ice skating rink (dress warmly). Parents will appreciate the convenience of being in a place where everything is on your doorstep.
Read our comprehensive guide to Hoshino Resorts Tomamu
Japan's Best Ski Resort for Powder
Winner: Lotte Arai Resort
Lotte Arai's success in the overall category will be in no small part down to its rapidly developing reputation as one of Japan's top destinations for powder. The resort gets 16 metres of snow a season, is 70% ungroomed and has ten designated powder areas which are avalanche controlled by some of the best in the business. It spells powder heaven for anyone heading over to Japan for the deep stuff (and let's face it, most of us are), and is a highly worthy winner of the category.
Highly Commended: Madarao
Ski Asia visited Madarao earlier this year, and left with a "Madapow" addiction that we fear won't be cured any time soon (read about it here). The resort has all the right ingredients for a great powder holiday – namely great terrain, very few crowds and a lax policy towards skiing off-piste. Oh, and it gets a LOT of snow.
Read our comprehensive guide to Madarao.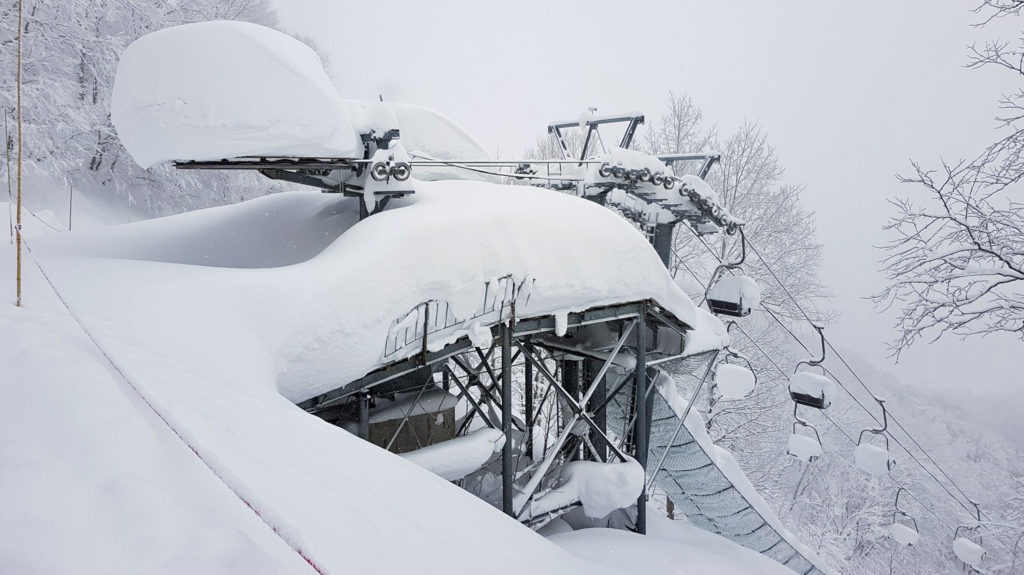 Japan's Best Snowsports School
Winner: Myoko Snowsports
You'd be hard-pressed to find a bad review of Myoko Snowsports, who have been operating in the Myoko region for more than a decade and are now based out of Akakura and Arai. They offer a variety of lesson types for adults and children, including a multi resort program which allows guests to explore seven of Myoko's most popular resorts.
Highly Commended: North Nagano Outdoor Sports
North Nagano Outdoor Sports is one of Madarao's official snowsports schools, offering the full suite of kids and adults products including group and private lessons. All of their instructors speak English, and they have the added benefit of being based out of Aki's Pub & Cafe – a favourite local watering hole.
Japan's Best Backcountry Guiding Operation
Winner: Evergreen Backcountry Guides
Now in its 19th year of operation, Evergreen was introducing international guests to Hakuba long before the resort had become a household name in snowsports. Evergreen Backcountry Guides, the guiding division of the operation, employs a team of highly experienced guides and offers a range of backcountry experiences to suit all levels.
Highly Commended: Itadaki Tours
Itadaki Tours is a Myoko-based operator, offering in-resort Powder Cruising tours and private tours. The company was formed by a group of Myoko locals who wanted to share their passion for the snow with visitors to the area.
Japan's Best Ski Hotel
Winner: Lotte Arai Resort
Lotte Arai Resort makes an appearance on our winners list yet again – this time for a hotel that is as stylish as it is convenient. Based a the foot of the ski slopes, it offers stunning views of Okenshiyama and the surrounding areas and features a pool, onsen, kids area and multiple dining options.
Highly Commended: Club Med Tomamu
Club Med Sahoro has long been a favourite for families – particularly those with kids – but in recent years some of that attention has fallen to the more recently opened Club Med Tomamu. In typical Club Med style, It's an all-inclusive hotel, where guests have access to the entire suite of services and facilities, including snowsports lessons (they employ their own snow school), kids' club and all meals.
Japan's Best Ski Lodge/Chalet
Winner: Active Life Madarao
Active Life Madarao is one of three properties managed by the Active Life group, and has received consistently positive reviews since its renovation in 2016. The rooms are spacious and well fitted-out, but we suspect a lot of the appeal is in Active Life Madarao's proximity to the slopes (a 3-minute walk) and the multitude of services on offers for guests staying with any of the Active Life hotels. These include complimentary ski and snowboard lessons and a free inter-resort shuttle to 6 nearby resorts.
Highly Commended: Kogakuro Myoko
Kogakuro Myoko's popularity is proof that for many travellers, an authentic experience is more important than a lavish one. The ryokan is popular with foreign travellers for whom the Japanese-style tatami rooms, traditional onsen and sumptuous local cuisine are attractions in their own right, even before one considers the proximity to Akakura Onsen ski resort – one of the true gems of Japanese skiing.
South Korea's Best Ski Resort
Winner: YongPyong Resort
Yongpyong is Korea's biggest ski resort (31 slopes) and its name is synonymous with skiing in Korea, having hosted the slalom and giant slalom events at the 2018 Pyeongchang Olympics. There are not too many people who would dispute its title as Korea's best ski resort, and our readers clearly felt the same way.
Read Ski Asia's comprehensive guide to YongPyong ski resort.
Highly Commended: High1 Resort
There were several contenders for the Highly Commended award in this category, with High1 Resort pulling ahead by the smallest of margins. The resort's combination of slope size and quality is matched only by YongPyong, and it relies far less on artificial snow than many other ski resorts in Korea. Most notably, the High1 is one of Korea's most picturesque ski resorts, offering breathtaking views of the Taebaek mountains.
South Korea's Best Ski Hotel
Winner: Dragon Valley Hotel
It bears no surprise that Korea's best ski resort is also home to the most popular ski hotel in the country. Dragon Valley Hotel sits at the foot of the YongPyong slopes, and has all the hallmarks of a 5-star facility, including spacious rooms, Western and Korean dining options and excellent service. The hotel is equipped with both sauna and public bath facilities, located on the lobby floor.
Highly Commended: High1 Palace Hotel
High1 Palace Hotel is one of five resort-operated accommodations at High1 ski resort, but emerged as the favourite amongst our readers. Conveniently located at the foot of one of Korea's largest ski resorts, the 4-star hotel features generously-sized rooms and a Korean/Chinese restaurant called High Land.
China's Best Ski Resort
Winner: Beidahu Ski Resort
Beidahu Ski Resort, located in China's Jilin province, has more vertical than any other ski resort in China and has benefited in recent years from investment in lift infrastructure and new hotels – notably Club Med Beidahu. It gets more natural snow that most ski resorts in China, though perhaps what we love most about this resort are the gorgeous surrounds and expansive views from the top gondola station. It was the overwhelming favourite in this awards category.
Highly Commended: Genting Resort Secret Garden
Genting Resort Secret Garden is one of several ski resorts located in the rapidly developing Chongli resort cluster, and will host the freestyle skiing and snowboard events when the Olympics roll around in 2022. Genting Resort Secret Garden is already a relatively easy 3–4 hour drive from Beijing, but will benefit majorly from a new Beijing–Chongli bullet train that is due to open later this month.
China's Best Ski Hotel
Winner: Club Med Beidahu
Club Med once again makes an appearance in this year's Ski Asia Awards, this time for its most recent ski hotel in China – Club Med Beidahu. The hotel benefits from a ski-in ski-out location at the foot of China's best ski resort, and brings its trademark hospitality and entertainment for a complete experience that will suit families and large groups.
Highly Commended: Thaiwoo Hotel
Ski Asia wrote about Thaiwoo ski resort in 2016, shortly after its opening, and it is pleasing to see that the resort has continued to grow in popularity. Thaiwoo Hotel is a 180-room boutique hotel – one of several choices in Thaiwoo that more recently includes a Hyatt Regency and a Hyatt Place. It features stylish interiors and large LED TVs in each room, and is a popular option for resort guests looking for accommodation that's a little bit different.
SPONSORED
Browse thousands of ski resort properties for sale in Japan
Uchi is Japan's independent, one-stop real estate site – start your search today.