Hakuba Valley is Japan's largest ski area, encompassing ten individual ski resorts and more than 960 hectares of world-class terrain.
Hakuba ("white horse") is a village in the Japanese Alps, located 40 km north-west of Nagano city. Some of Japan's best known ski resorts lie within this general region. In 2016, ten of these resorts combined to form Hakuba Valley, Japan's largest ski area. The resorts are spread across three regions of the Northern Alps—Hakuba, Otari (north) and Omachi (south). In its entirety, Hakuba Valley encompasses 960 hectares of skiable terrain, all accessible via a single lift pass.
Hakuba forged its reputation at the 1998 Nagano Winter Olympics, hosting several marquee events. Its biggest (and oldest) ski resort, Happo-one, was used as an alpine venue. Hakuba has since become one of Japan's most popular winter sports destinations, outperforming its Olympic co-hosts Nozawa Onsen and Shiga Kogen. In the past five years alone, the mega-resort has doubled its tourist intake, now accommodating up to 200,000 foreign skiers per season. Its popularity as a tourist destination is matched only by Niseko.
Lifts & Terrain
Hakuba Valley's ski area encompasses 10 individual resorts, 109 lifts (6 gondolas) and 960 hectares of skiable terrain. To commute between resorts, skiers need to use the resort's shuttle service. Keep in mind that Hakuba Valley stretches 40 km from north (Hakuba Cortina) to south (Jiigatake Snow Resort). It's not feasible to ski more than one or two resorts per day.
The resorts belonging to Hakuba Valley are (from north to south): Hakuba Cortina Snow Resort, Hakuba Norikura Onsen Snow Resort, Tsugaike Kogen Snow Resort, Hakuba Iwatake Snow Field, Hakkuba Happo-one Snow Resort, Hakuba47 Winter Sports Park, Hakuba Goryu Snow Resort, Hakuba Sanosaka Snow Resort, Kashimayari Snow Resort and Jiigatake Snow Resort.
Happo-one is Hakuba's biggest (760-1831 m), oldest (1958) and most popular resort. It's also the closest to Hakuba itself, just 2.5 km from the train station. The resort is serviced by 21 lifts (one gondola), many of which have been upgraded in recent years. Skiers have plenty of ground to cover (52 km), much of which is intermediate terrain (50%). Confident skiers will enjoy the men and women's Olympic Downhill courses, used at the 1998 winter games. Otherwise, Happo is usually a good bet for powder up top (Riesen Grat, Kurobishi).
Immediately south of Happo is another popular choice—the combined resorts of Hakuba47 and Goryu. These resorts are interlinked, together offering 23.7 km of runs and 19 lifts including two gondolas. Hakuba47, the smaller of the two resorts, has the more advanced terrain, including several designated tree zones. It's also home to a formidable terrain park, one of the resort's biggest draw cards. Further south, Goryu is better suited to beginners, offering plenty of long, gentle greens.
But powder hounds should look further afield. Cortina is Hakuba's northernmost ski resort, a 13 km commute from Hakuba village. Sadly, it's the only resort on the Hakuba Valley lift ticket that allows skiers to fully explore off-piste—tree skiing is fair game. This allows skiers to take full advantage of Hakuba's legendary powder. The resort tops out at a respectable 1400 m, offering 500 m of vertical. Much of this is difficult terrain (up to 42° incline), best suited to experienced skiers. Cortina is also connected to Norikura, a mid-sized resort with few crowds to contend with.
Snowfall
Hakuba averages 11 m of snow per season. Somehow, it also manages a remarkable number of blue sky days. Of course, Hakuba Valley is enormous—snow quality varies from resort to resort. Hakuba's northernmost resorts tend to see the lion's share of powder. These resorts sit within closest reach of the coast, first in line when snow storms roll in over the Sea of Japan. Cortina, in particular, is renowned for its heavy snowfall, receiving up to 1 m more than any other resort in Hakuba.
Another consideration is that Hakuba's north-facing slopes are best aligned to preserve powder. These slopes avoid direct sunlight, preventing "Japow" from turning into "Nihon-goop". Hakuba47 and Happo-one fall into this category, both with predominantly north-facing slopes. Happo-one is also Hakuba's highest resort, ensuring consistent snow quality up top.
Accommodation
Hakuba Valley stretches 40 km from north to south. Throughout the valley, there is no lack of accommodation, each resort with its own cluster of hotels, chalets and (some) hostels. Western-style lodging is the norm; however, those wanting a more traditional Japanese experience might opt to stay in a ryokan, plenty of which also exist.
The bulk of accommodation is found towards the base of Hakuba's premier resort, Happo-one. Three villages make up this area, the most popular of which is Happo Village (just 2 km from Hakuba station). Hotels in this vicinity link up with Nakiyama and Shirakaba base areas. Further north is the village of Wadano, flanking Happo's Sakka base area. Wadano has an array of upmarket chalets and hotels, all within close reach of Sakka's beginner slopes. This makes it an excellent base camp for families.
Happo Village
Hakuba Onsen Ryokan Shiroumaso is located in Happo village, five minutes' walk from the slopes of Hakuba's most popular ski resort. It's one of TripAdvisor's top rated Hakuba-based hotels—thanks in large to its incredibly hospitable staff. The hotel (a traditional Japanese ryokan) is equipped with tatami rooms (washitsu) and a natural onsen bath. It also serves a range of local dishes, cooked by the owner herself.
Hakuba Village
Seventh Heaven Hakuba is a self-contained retreat that sleeps up to 25 guests. The lodge features a lounge with fireplace, unlimited high-speed WiFi and Netflix, a large fully equipped kitchen, and a games room with pool table. Its Central Hakuba location means easy, quick connections to all areas of the greater Hakuba Valley via the lodge's private shuttle or public bus (just a 2-minute walk).
Cortina
Hotel Green Plaza Hakuba is the official hotel of Cortina Ski Resort. It's a massive complex, offering ski-in-ski-out accommodation at very competitive prices. The hotel is equipped with a range of facilities including an indoor onsen (11 hot spring baths), a child care centre, numerous restaurants and a tea lounge. It also operates its own rental shop and ski school. Guests arriving from Happo bus terminal are entitled to a free shuttle service.
Services & Facilities
Ski Schools
There are several English language ski schools in Hakuba. Hakuba Snowsports, based at Goryu, is one of the more established outfits. The school employs more than 40 instructors, primarily from Australia, New Zealand and the UK. A range of lessons and clinics are on offer, catering to adults, children, individuals, groups, beginners and experts. The company also offers backcountry tours of Hakuba (and Myoko), starting from ¥69,000 per day / group. All-inclusive multi-day tours (10-11 days) are available from ¥299,000 per person.
Based at Happo-one, Evergreen International Ski School is another popular option. The school has been in operation since 2000, now employing more than 130 staff. There are several kids' programs including the Yeti Club (3-6 years) and the Hakuba Heroes (7-14 years). These run from 10 am, with half-day (¥9,500) and full-day classes (¥12,000) available. The school also runs a daycare service for children under 6 years old.
Shops & Rental
Hakuba is littered with ski rental shops. It's not difficult to source a decent set of skis. If in doubt, head to Happo-one (and its surrounding villages), Hakuba's busiest resort. It may also be worth checking if your hotel has gear on hand.
Hakuba Central Snowsports is one of Hakuba's largest rental operations, with shops at Happo-one and Goryu. A wide range of big-name brands are available including K2, Volkl, Rossignol and Head. The shop charges ¥4,500 per day for a standard set of skis, boots and poles. A free shuttle service is available to all guests, to and from any of the three stores.
Rhythm Hakuba is a two minute walk from Happo-one's Kokusai pair lift. The shop is located in the old Wadano Visitor's centre, across the road from the Mominoki Hotel. Rhythm offers both free pick up and free overnight storage.
Food & Nightlife
Hakuba delivers plenty of options for the picky eater. All tastes and budgets are catered for. The highest concentration of restaurants and bars is in Happo Village, at the foot of Happo-one (Nakiyama and Shirakaba base areas). Wadano and Echoland, on either side of Happo, are also fairly lively. Make sure to check out our Hakuba bars and nightlife guide, packed with tips for a top notch après session.
Navigating Hakuba (and all of its little hamlets) is reasonably straight forward. The Genki-go shuttle bus (¥300/person) operates from 6-11 pm, with multiple routes to choose from. The red and blues lines begin at Happo's Sakka base area (Wadano) before looping around to Hakuba station, Echoland and Happo Village. The Otari line (yellow) services Hakuba's northern resorts, while the Omachi line (purple) journeys south. This service is only in operation during peak season, from late December to late February.
Culture & Ambience
Hakuba is truly an international ski destination and now one of Japan's major tourist drawcards. During the 2014/15 season, the resort attracted a record 171,000 foreign visitors, more than double its intake in 2011/12. In 2018/19, foreign visits are expected to reach 200,000. Of all the ski resorts in Japan, only Niseko has experienced similar growth. Both resorts do a great job of catering to foreigners: western-style accommodation, international cuisine, English-language ski schools, and lively après-ski bars.
As a result, Hakuba looks and feels somewhat less Japanese than many of the country's lesser known ski resorts. If you're looking for a more "authentic" experience, Hakuba might not be the best fit. That said, there are plenty of cultural attractions within easy reach including Matsumoto Castle, Jigokudani Monkey Park and Zenkoji Temple—not to mention an abundance of local onsens (hot spring baths) and izakayas (gastropubs).
Getting to Hakuba Valley
There is more than one way to get to Hakuba. Taking a direct bus from the airport is often the easiest (and cheapest) option but will add transit time. Taking the world-renowned shinkansen (bullet train) from Tokyo Station is perhaps the more enjoyable route. The shinkansen will only take you as far as Nagano Station, however. From there, a local bus is required.
From Narita / Haneda Airport
Japan's largest international airport is located in Narita, an hour outside of Tokyo. The Narita Express train is the easiest way to reach the capital from the airport.
If you arrive at Haneda International Airport (also in Tokyo), you'll first need to take the monorail to Hamamatsucho station. From there, change onto the JR Yamanote Line (colored green on the JR rail map). Tokyo Station is only three stops away.
From Tokyo Station
From Tokyo Station, take the Asama shinkansen to Nagano Station via the Hokuriku Shinkansen line. A one-way ticket from Tokyo to Nagano costs approximately ¥8000 (US$70). The route is not covered by the Japan Rail Pass. If you are travelling on a Japan Rail Pass, you will also need to purchase a JR East Nagano Niigata Area Pass. This can be purchased for ¥17,000 online, allowing unlimited travel between Tokyo and Nagano for any 5 days within a 14 day time frame.
From Nagano Station
Depart the station via the East Exit from which you can take an Alpico bus to Hakuba (¥1800-2000). Buses stop at Hakuba Goryu, Hakuba Station, Hakuba Happo, Iwatake Shinden, Ochikura, Tsugaike Kogen and Hakuba Norikua. Buses run from 8:20 am to 8:00 pm and take from 1-2 hours to reach the various Hakuba resorts.
Alternatively, the local Oito-sen train line also runs through the valley, starting at Matsumoto City and finishing at Itoigawa City. Some of Hakuba's hotels offer a free shuttle service to and from the nearest Oito-sen train station.
Direct bus
Alternatively, various bus companies offer direct routes to Hakuba from both Narita and Haneda airports. Alpico's Hakuba-bound buses run from Narita once per day (10:55-11:05 am), stopping at all terminals. This service costs ¥9,500 (¥7,500 for children) and takes 6+ hours. From Haneda, buses set off at 11:40-55 am. These are luxury buses with free wi-fi and copious leg room.
Nagano Snow Shuttle operates a similar service with (almost) identical prices. The shuttle departs from Narita four times per day, from 9:15 (earliest) to 8:30 pm (latest). Buses from Haneda depart at 7:30 am.
Value
Hakuba Valley's lift pass is great value if not dirt cheap. Adults pay ¥5,700 for a single day pass (¥3,200 for children). Multi-day discounts are minimal—¥14,900 for 3 days (13% off). By comparison, Shiga Kogen, Japan's second biggest ski resort, sells its day pass for ¥5000. Prices at Niseko, on the other hand, are significantly more expensive (¥7,400 per day). By world standards, however, this is all good news.
In addition, Hakuba is currently an affiliate member of the Mountain Collective. A Mountain Collective pass ($469USD) allows skiers access to more than 20 different ski resorts worldwide. These include some of the most popular resorts in North America (Jackson Hole, Aspen Snowmass and Mammoth among others). Skiers are allowed two days at each (32 days in total), plus a 50% discount on additional days.
Ski Season: Early December – Mid April
Snowfall (annual ave): 11 m
Runs (total): 139
Runs (km): 133
Lifts: 109

Nearest major city:
Nagano
Nearest international airport:
Narita International Airport
Transport:
 Shinkansen, public bus, coach, private transfer
How to get to Hakuba
Hakuba Valley Trail Map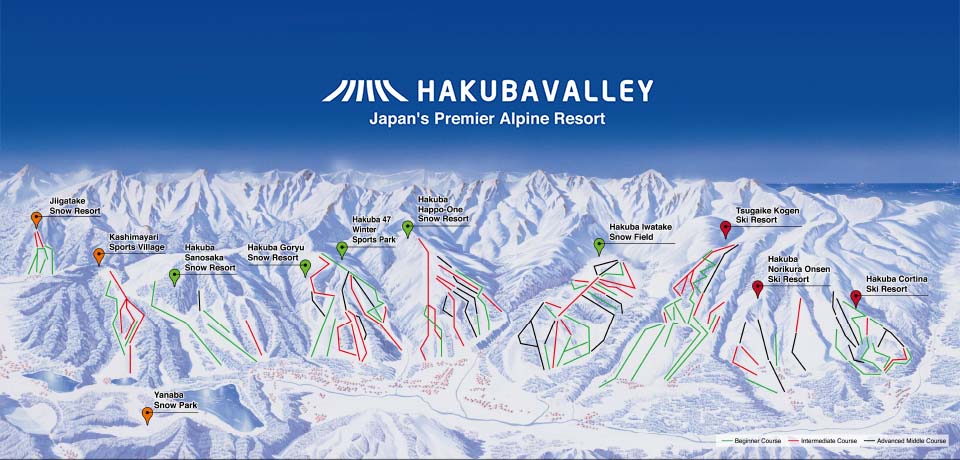 Hakuba Valley Map
The Breakdown | Hakuba Valley
Japan's largest ski resort
Hakuba Valley is Japan's largest ski area, encompassing 10 individual ski resorts and a huge variety of terrain. The resort lies within the Northern Alps, a short drive from Nagano city. Since forging its reputation at the 1998 Winter Olympics, Hakuba has become one of Japan's most popular winter destinations, now attracting hundreds of thousands of tourists each year.
Snowfall (Quality & Quantity)
8