With an almost unbelievable 21 metres of snow a season, Kiroro lays claim to some of the best powder skiing in Japan, thanks to its favourable climate and location in a mountain valley and heavy snowfall area. For anyone in search of fresh tracks, this is a resort that should be right at the top of the list.
Kiroro benefits from living in the shadows of its more high profile neighbours Niseko and Rusutsu, which means fewer crowds and shorter lift lines. It's also home to some of Japan's best tree skiing.
Perhaps the only drawback of a holiday in Kiroro is that there's no real town to speak of – it's a destination resort, where you'll find everything you need under the roof of the main complex (the Kiroro Mountain Centre). It's a convenient setup, but lacks the diversity and ambiance that you'll find in true ski towns like Nozawa Onsen or Hakuba.
Anyone with a taste for comfort or convenience will appreciate the resort's two main hotels, both 5-star ski-in ski-out facilities (with a price tag to match). In 2019, Kiroro will open its third hotel – Yu Kiroro – a collection of luxury condominiums will ski-in ski-out access via a newly installed combination lift.
Lifts & Terrain
Kiroro Resort is spread over two mountain peaks, Asari and Nagamine, which together encompass 22 runs and are serviced by 10 modern high-speed lifts. By Japanese standards, Kiroro is a moderately-sized resort. Those used to the sprawling European or North American resorts may find it quite small.
Kiroro has a reasonably even spread of beginner, intermediate and advanced terrain, and the base of the resort is particularly good for first-time skiers looking to build confidence. Intermediate and advanced skiers will enjoy the wide, open runs and the odd mogul line, though true expert skiers may struggle to find in-bounds terrain that seriously challenges.
Venturing into the trees is where the fun really starts, and on a classic Kiroro powder day (and there are many), this is where the skiing can be as good as anywhere. Kiroro's Ski Patrol has opened several off-piste areas with clear entry and exit point signage, intended for advanced skiers and snowboarders.
Snowfall
Hokkaido's ski resorts – Kiroro included – like to boast that they have the best snow in the world. For the most part it's true. Hokkaido benefits from cold winds that blow over from Siberia and deposit huge quantities on snow all over the island (Japan's northernmost prefecture), and choosing a resort with the best snow is splitting hairs.
But Kiroro is a special case, and with a reported 21 metres a season it genuinely doesn't get much better. It's often said that Kiroro is the first resort in the area to open, and the last to close – and it's mostly the case. Even the better-known Niseko United reports only 15 metres a season, though it's worth mentioning that these figures are fairly subjective and depend largely on how and where measurements are taken.
Perhaps the most persuasive argument for Kiroro is that there always seems to be a lot more snow to go around. With fewer crowds than some of its more popular neighbours, powder days are the rule rather than the exception, and a trip to the resort will satisfy even the most seasoned powderhound.
Kiroro Accommodation
Accommodation at the resort itself is limited to the three main ski hotels at the foot of the mountain – the Sheraton Hokkaido Kiroro Resort (formerly the Mountain Hotel), The Kiroro, A Tribute Portfolio Hotel, Hokkaido (formerly Hotel Piano) and the newly-built Yu Kiroro.
All are high-end ski-in ski-out hotels with a level of service and quality facilities to match Kiroro's excellent skiing.
The Sheraton is part of the main ski complex, so it takes the points for convenience. It also offers both Western style and Japanese tatami rooms, and has multiple dining options. Sheraton's Tokiwa Geothermal Spa – a fully-equipped onsen facility with indoor and open air baths and saunas – is perfect for relaxing tired muscles after a long day on the slopes.
The Kiroro is the larger hotel of the two, and is located further down the slopes – and is now accessible via a newly-installed gondola and beginner run. It has a larger selection of restaurants and bars, as well as a fitness centre, hot spring baths and a swimming pool.
A third hotel, Yu Kiroro, has been completed and will open in December 2019.
Those travelling to Kiroro on a budget may wish to stay in Otaru, a small coastal town roughly 40 minutes away by car. A taxi from Otaru to Kiroro will cost roughly between 6,000 and 8,000 yen, which will need to be factored into expenses.
Resort Services & Facilities
As a destination resort, Kiroro benefits from having its facilities and services under the same roof. Guests to the resort can purchase lift tickets, book ski lessons, rent ski equipment or purchase gear at the Kiroro Mountain Centre. There is also a large locker area, nursing room, kids play room, rental room, and a public bath.
Kiroro Shopping and Rental
Ski equipment rental at the resort is not bad, and comes with the option to choose between a standard or premium setup. It is also possible to rent outerwear, gloves, goggles and hats. A full rental price list can be found on the Kiroro Resort website.
Anyone looking to purchase ski gear is advised to avoid the Kiroro's lone ski shop, "Ski Shop Vainqueur", which charges a huge premium for the luxury of in-resort shopping. Online retailers or ski shops in Sapporo will offer significantly better value for money.
Kiroro Ski School
Kiroro has its own full-service ski and snowboard school, however English speakers are limited to taking private lessons from the International Ski & Snowboard Academy (the ski school's international division).
English speaking instructors are mostly from resorts in Europe, North America, Australia or the UK, and hold international certifications. The quality of the program is good, but the absence of an adult or children's group program for English speakers is a shame.
Kiroro Town
Shopping, activities and onsen hot springs can be found at Kiroro Town – a small, misleadingly-named area that sits adjacent to the Mountain Centre. The town's two or three gifts shops and specialty stores are there mainly for the benefit of the resort's overnight guests, and stock basic food items, alcohol and souvenirs.
The "town" is also home to "Yu Yu Kan", an aquatic complex that features a caldera hot spring, 25 metre swimming pool, massage centre and fitness room. A kids activity centre called "Granship" offers arcade games, a climbing wall and a mystery pirate adventure.
Transport
With all major facilities and attractions located within the Kiroro Resort complex, there is little need for transportation. A resort shuttle that carries guests between the two main hotels leaves twice every hour, though it is just as easy to walk the distance (<10 minutes).
Food & Nightlife
Given that the dining options are limited to what's on offer at the two hotels and on-slope facilities, the selection is surprisingly good, if not a touch on the expensive side.
For a casual daytime pit-stop we'd recommend Café "Crest", a picturesque wooden lodge at the top of Nagamine No.1 course with stunning views over the slopes. If something something more substantial is in order, the Sheraton's Cafeteria "Lumiere" offers self-service ski-in ski-out dining.
For an evening meal there are options at both hotels to suit most tastes, including large buffet restaurants, sushi & sashimi, Italian cuisine or Japanese-style barbecue.
Visitors to Kiroro will need to come to terms with the fact that it does not embrace the après-ski culture in the same way that many would be used to in North America or Europe. There is no real nightlife, just a couple of sedate hotel bars serving beer, wine and cocktails.
Culture & Ambiance
Kiroro is slowly becoming more popular with foreigners but has still retained the feel of a Japanese ski resort. Whether or not this is a good thing is entirely down to personal preference.
With no real town to speak of, dining and drinking options are limited to what's on offer on the slopes and at the two hotels, which makes for a more subdued environment. It is a resort in the truest sense of the word, and all establishments and facilities have a very "holiday" feel about them. On the plus side, the atmosphere is relaxed and family-friendly.
Those in search of a cultural experience would do well to visit Otaru, a nearby coastal town known for its seafood, boutique shops and the Otaru Canal. The town is packed with charm and full of hidden gems – from hole in the wall sushi bars, to sweet shops to sake distilleries.
For the people for whom skiing is the starter and après ski is the main course, Kiroro's better-known and larger neighbour, Niseko United, which has a reputation for its lively nightlife, may be a better option.
Value
The absence of budget accommodation in Kiroro means that a holiday is not going to be cheap. That said, the hotels are well set-up, and offer relatively good value compared with 5-star equivalents in some of the better-known Japanese ski resorts.
Other major expenses to consider are equipment rental (starting at 4,800 JPY/day) and private lessons (starting at 15,000 JPY for an hour-long morning class).
Lift tickets are extremely good value and start at 3,600 JPY for a 1 day early/late season pass, which represents very good value in Japan and is extraordinarily cheap compared to the lofty rates set by some of the bigger ski resorts in Europe and North America.
For the bargain hunters out there, Kiroro releases Early Bird specials each year. These specials, as well as the best prices on lift tickets and rental, can be found on the Kiroro website.
In 2016/17 Kiroro was added to the Powder Alliance, giving season pass holders three free days on snow at any of the other 14 participating resorts – all of which are located in North America. It continues to be part of the alliance has since expanded its network to offer season pass holders even more benefits at resorts around the world.
Any additional questions about Kiroro Ski Resort? Get in touch with Ski Asia by emailing contact@skiasia.com. We'd love to hear from you!
Ski Season: Late November – Early May
Snowfall (annual ave): 21 m+
Runs (total): 22
Runs (km): 33
Lifts: 9
Terrain: 33% Beginner, 29% Intermediate, 38% Advanced
Terrain Park: Yes
Top elevation: 1180 m
Base elevation 570 m
Vertical: 810 m

Nearest major city: Sapporo (2 hour drive)
Nearest international airport: Sapporo Chitose New International Airport
Transport: 90 mins from New Chitose Airport, 40 min from Otaru, 90 min from Niseko, daily
shuttle bus from all locations

Kiroro Trail Map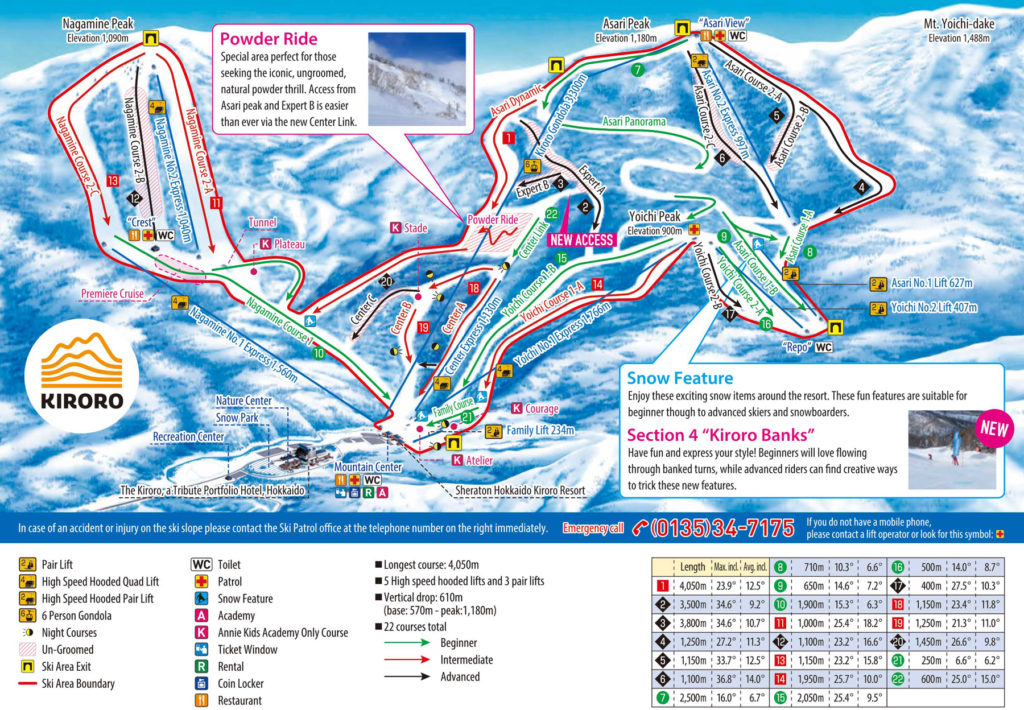 Kiroro Map
Japan's best powder skiing
Kiroro has lived in the shadows of its larger and more popular neighbours for some time. But its phenomenal seasonal snowfalls are slowly drawing the attention of powder skiers around the world. A resort in the truest sense, Kiroro is not the place for party-goers or budget conscious travellers. But for those who appreciate the convenience and comforts of a destination resort, and have a thirst for the world's best powder, Kiroro is the place to go.
Snowfall (Quality & Quantity)
10