A former Olympic venue with stunning views over downtown Sapporo.
The distinctive peak of Mount Teine is easily visible from downtown Sapporo and, in fact, the ski area is a mere 40 minute bus journey from the centre of Hokkaido's largest city. On a clear day the summit of Sapporo Teine provides visitors with breathtaking views of the sprawling Sapporo metropolis to the east and the crashing waves of Ishikari Bay to the north.
It is not only the fantastic view that makes this resort special. As one might expect, being located next to one of the snowiest cities in the world, Sapporo Teine receives huge quantities of snow every season. Add Hokkaido characteristically light, dry snow to the the resort's varied terrain, and a mountain perfect for all types of winter sports enthusiasts is born.
This ski area is also steeped in skiing history. Sapporo hosted the 1972 Winter Olympic Games, the first to be held outside of Europe or North America. Mount Teine was the venue for the alpine skiing, bobsleigh and luge events and, as such, the mountain is still littered with Olympic artifacts. The most iconic of these is the old plinth for the Olympic Cauldron that still stands in the lower Olympia zone.
Lifts & Terrain
Sapporo Teine is definitely on a much smaller scale than the likes of Niseko or Rusutsu. With only 15 trails and 10 lifts it would be easy to gloss over this ski area, and that would be a big mistake.
There are two distinct areas that make up this ski resort. The lower zone, Olympia, provides some wonderful terrain for beginner and intermediate skiers. The mellow slopes provide a great venue for first time skiers, while the gentle natural areas mean just about anyone can enjoy tree skiing at Teine. The lifts in the Olympia area are slow and visibly ancient, but their short length means they won't slow your progress around the mountain too much.
If you are keen to test yourself on some more challenging terrain then you can take the relatively new gondola to the upper Highland area. Alternatively, you may drive up to the Highland area and avoid the Olympia zone all together.
The Highland area provides terrain more suited to advanced and expert skiers, although a long green run does mean that anyone can enjoy the beautiful view from the peak. The high-speed Summit Express quad chairlift gives access to the whole of the Highland area. There are two pair chairlifts that open up some excellent gentle red trails at the top of the Summit Express, but the main attraction of the Highland area is the steep slopes down to the base area. The slalom and giant slalom courses for the 1972 Olympics are still skiable as marked runs – a great test for those looking for groomed terrain.
The north face of Mount Teine offers some of the steepest lift accessed terrain in Japan. Those looking for powder will be hugely interested in this mountain face. The ungroomed trail 'Kitakabe' runs through the trees and offers an easier descent than the thickly forested slopes to either side. From the top of the Summit Express a short 10 minute walk to the old cable car station brings you to Teine's sidecountry. From here there are multiple routes down the steep face, both open and in the trees. If you stay alert for the markers on the trees that indicate its time to start traversing back to the lift station then there are many quick laps of this powder paradise to be enjoyed.
Like most resorts in Japan, Sapporo Teine offers night skiing at Olympia with two trails open until 21:00 – the green Sun Shine and red Sun Rise. Whilst it is not the most extensive night skiing area in Hokkaido, the experience of skiing above a beautifully illuminated city is unique to Teine. After the night skiing you can descend the mountain and get stuck into the Sapporo nightlife.
Snowfall
Unfortunately there are no accurate snowfall records kept for Sapporo Teine, so it is tricky to put an exact figure on it. We can give a rough idea of how much snowfall usually falls in Teine though.
Sapporo, in the valley beneath the resort, is known to receive an average of 6 metres of snow every winter. Sapporo has an elevation near enough to sea level (29 metres), while the peak of Mount Teine is 1,023 metres. So it would be very reasonable to assume that Sapporo Teine receives an average of at least 10 metres of snow per season.
Sapporo Teine Accommodation
There are no accommodation options on or near the slopes of Teine. Instead you must venture into Sapporo if you wish to overnight. As one of Japan's major cities Sapporo offers an enormous array of accommodation, from the luxurious and expensive to the simple and cheap.
Search Sapporo accommodation.
Ski Asia Tip: There are some hotels in Sapporo that offer an express bus service to Teine for their guests. The return bus fare and a days lift ticket will only cost you only ¥6,700! For more information on this deal, visit the Sapporo Teine website.
Services & Facilities
Sapporo Teine features all the basic facilities one would expect from a ski resort. As a standalone mountain with no accommodation adjacent, there are few of the frills that you may find at resorts like Niseko. The two main lodges – Olympia House and Highland Ski Centre – contain large cafeterias that serve excellent Japanese cuisine.
Ski & Snowboard Rental
There are rental stations in both Olympia House and the Highland Ski Centre. From these locations it is possible to rent either ski or snowboard gear as well as outerwear and other accessories that you may find yourself in need of. Teine also offers a "High Class" rental that gives guests the option to rent high performance skis or snowboards so as to fully enjoy the great terrain. A full list of prices is available on the Teine website.
Sapporo Teine Ski School
The Teine Ski School offers both group and private lessons. Teine does not have a dedicated international ski school and so it is not possible to guarantee English speaking instructors, though a request can be made. A full list of lesson types and prices is available on the Teine website.
Sapporo
The city itself offers a wealth of tourism opportunities. Replete with amazing restaurants, fantastic shopping and a thriving nightlife scene, Sapporo is certainly a worth a visit in its own right. To have it as your après-ski venue is mind-blowing.
As one of the snowiest cities in the world you might think that Sapporo would be a nightmare to get around in the winter time. In fact, nothing could be further from the truth – the canny city planners built underground streets, lined with shops, that facilitate easy movement from building to building in the centre of the city. Many of the pavements in the city are also heated to avoid them icing over and becoming dangerous.
The Sapporo Snow Festival is famous throughout the world and attracts nearly 2 million visitors a year. Each year in early February huge ice sculptures are built in around the city, with light displays to bring them to life at night. There are also freestyle skiing exhibitions, a beauty contest and musical performances over the duration of the festival. It is certainly worth a visit!
Ski Asia Tip: Accommodation in Sapporo can become tricky to find around the Snow Festival dates, so make sure you book early if you plan on visiting around early February. You can find the exact dates here.
Value
Sapporo is a huge city and the many and varied accommodation options available mean that you can enjoy the delights of Sapporo Teine and Sapporo city on a very limited budget.
By international standards a single day lift pass is cheap at only 5,200 JPY. It is also possible to buy lift tickets for only 6 or 4 hours if you are only in Teine for a shorter period of time. The real value in Sapporo Teine comes from a bus pass, which includes a return bus journey from a central Sapporo hotel and a day lift pass for only 6,700 yen. Take a look at the Teine website to discover which hotels qualify for this deal.
A full day of renting an ordinary ski/snowboard set costs 5,200 JPY, while the high-end ski/snowboard set only costs that little bit extra at 6,500 JPY for the day.
Ski lessons are extraordinarily cheap at Teine, with a 2 hour private lesson costing 16,000 JPY for one person.
Ski Asia Tip: As Sapporo Teine is owned by Kamori Kanko (the same company that owns Rusutsu) it is one of the resorts that is featured on the K-Winter Pass. This is a season ticket that provides a great deal of perks as well as lift access to Sapporo Teine, Rusutsu, Sahoro and Nakayama-Toge. This is great value if you are spending the winter in Hokkaido.
Any additional questions about Sapporo Teine Ski Resort? Get in touch with Ski Asia by emailing contact@skiasia.com. We'd love to hear from you!
Search Sapporo Accommodation
Ski Season: Late November – Early April
Snowfall (annual ave): 10 m
Runs (total): 13
Longest Run (km): 5.4
Lifts: 10
Top elevation: 1023 m
Base elevation 340 m
Vertical: 683 m

Nearest major city: Sapporo (40 minute drive)
Nearest international airport: Sapporo Chitose New International Airport
Transport: Public bus, coach, private transfer, JR Train

Sapporo Teine Trail Map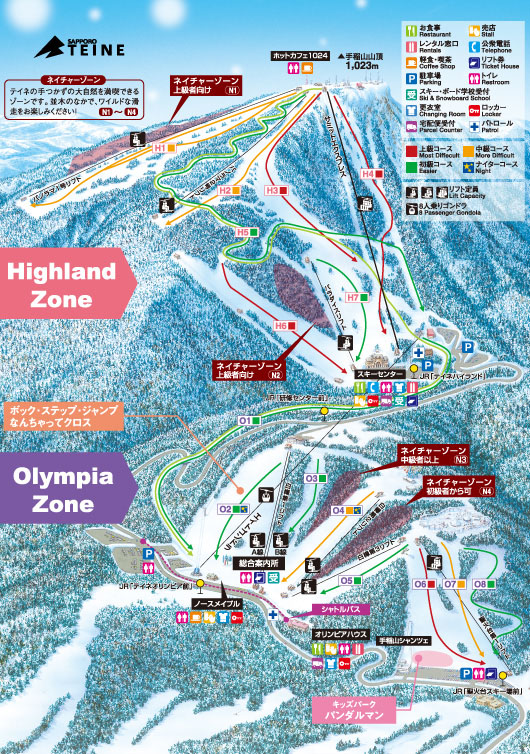 Sapporo Teine Map