Zao Onsen: the 'work hard, play hard' ski town steeped in traditions of Samurai heartland
Zao Onsen is one of those places that transports you not only in time but also in spirit. Being one of the most traditional resorts in Japan, you will be hard pressed to find the hordes of international travellers and the commodities that usually follow them. Perfectly located for Tokyo's weekend warriors and adjacent to the bustling semi-rural university town of Yamagata, Zao Onsen feels like the Crested Butte of Japan: raw, real and rambunctious.
Zao is both the name of the mountain and the town, rich in natural warm water sulphur onsens – a feature the Tohoku region is famous for. Nestled into the most eastern edge of Yamagata prefecture, Zao Onsen gets hit by icy easterly sea storms which create one of its claims to fame: the Juhyo (snow ghost or snow monster) trees. Mount Zao's sturdy fir trees grow low down due to wind exposure and arid volcanic soil. In the depths of winter (January/February) the Siberian storms transform the trees into eerie glistening white statues, inspiration to many folk tales and myriads of heavily hash tagged Instagram posts.
Zao Onsen is also the training site of Yamagata University ski club and hosts FIS certified races managed by the ski association of Yamagata. It boasts the Kuraray ski jump site, which is a regular stop on the ski jumping circuit of Eastern Asian teams – a testament to Yamagata's reputation as one of Japan's premier sports hubs.
If you find yourself in this authentically rural Japanese, well lived-in ski town, just do as the adorably translated motto of Zao Onsen says and: "Slip over snow forever happy".
Lifts & Terrain
Zao Onsen's lifts are walking distance from the town or easily accessible by bus. If you are staying in Yamagata City 16 km down the windy mountain road, there are regular 40-minute ski buses up to Zao Onsen. During the week they run less often than on weekends.
The lifts are operated by different companies, but each ticketing stall offers all varieties of possible options. A day ticket will run around ¥5000.
Zao Onsen is the largest ski resort in the Tohoku region, with 880m vertical drop/gain (780m–1660m), 42 ski lifts (though this includes absolute beginner Poma and rope-tow lifts) and a total of 27 runs.
If you are a beginner you are well served around the bottom area, a short walk from the ropeway bottom station with beginner magic carpets, Poma lifts and a couple of cozy mountain self-serve huts. You can also take Sky or Chuo ropeway up and lap around the top plateau, then download via the gondola. Beware that if the winds are very strong they might stop the gondola and you will have to face your first red run down. (There is a green run down, but if it's late, due to the moguls created throughout the day, and the generally icy conditions, it is really more a red than a green run…)
If you are intermediate or advanced and can handle some off-piste skiing, anytime during the week you are likely to find fresh tree lines, as the locals tend to stay on the runs. There is no patrolled freeride gate access like in the Nagano or Hokkaido mountains, so be advised that you are responsible for your own safety and navigation. There are some open gullies off of Mt. Jizo top station which may look tempting but you must really know your way around snow safety and open terrain skiing if you want to tackle those, due to the unstable wind-blown layers of the snow.
The Yokokura, Kurohime and Hahnenkamm runs are the sites of the FIS point races and the training site for the ski clubs. They are not very long, but reasonably steep at an average of 30 degrees. If you ask nicely, you might even be able to do a few gates with the ski club.
Off the top of Zao ropeway starts the longest 8km run down, with a breathtaking view of the Juhyo against the backdrop of the piercing blue caldera lake of mount Zao's volcanic past.
Zao Ropeway operates into the evenings for walking visitors to enjoy the spectacle of the lit up Juhyo. Guests can enjoy the views with warm tea and sweet mochi in hand – offered by the self serve café at the top station.
Snowfall
A very healthy 16 metres of snow falls each winter, creating a reliable average 180 cm snow base (measured since 2015). The abundance of snow and trademark Tohoku snow storms are a major plus for powder seekers; however, if you enjoy a sunny day during your ski trip, you are more likely to get one in the later part of the season (March onwards).
Services & Facilities
Rental facilities
Next to the valley station of Zao Ropeway is Meihinkan Notoya Rental Shop. If you can, show up the evening before your first day on the slopes as it tends to get extremely busy in the mornings especially on weekends. Ski sets are roughly ¥3000 per day, minus the 10% discount coupon some hotels offer.
Ski schools
Having the birthplace of Japanese skiing close by (Niigata), the Austrian ski tradition has carried over and most ski schools still proudly hold Austrian names. Ski schools do offer lessons in English, but only at the private premium rate, since the ubiquitously available Aussie or Kiwi instructors of Hokkaido and Nagano are considered unicorns here.
Even though you can book online, it is best to simply walk in when you first arrive to book the lessons for the week, as prices stay the same and chances for error and miscommunication are minimised. Both ski schools are located at the valley station of Zao Ropeway.
Ski huts
There are a few self-service places at the bottom and the top of Zao ropeway, as well as warm vending machines at the top of Chuo ropeway and a few by the chairlift stations, but there is no full-service mountain hut on the mountain. The bottom station restaurants are perfectly comfortable and tasty.
Food & Nightlife
The resort is deceptively low key, and as is the case in most Japanese resorts there is no après ski culture. However you will be spoilt for choice with many gorgeous natural spring onsens to warm your bones after a chilly day's skiing. The most famous and arguably serene is "Dai Roten Buro" built into a mountain ravine. It is also at the highest altitude in the resort and one of the fewer in Japan that allow mixed gender bathing.
A list of public access onsens is available here. If you happen to stay in a ryokan, they most likely have a small in-facility onsen.
Also, if you managed to make friends with some of the local race crews coming up from Yamagata, they will usually take you to come hang out with their service guys from the rental shops, and no ski rental shop has ever run without a good amount of greasing sake.
If you love grilled meat, barbecued communally around a little table grill in the shape of a hat, accommodating the delicious fat from the meat to flow into and flavour the vegetables lined around the brim of the little meat hat … you have come to the right place. Add the fact that the rich local dish is one of the few traditional mutton dishes of Japan, top it off by naming it "Jingisukan" (after Mongolian warrior superstar Genghis Khan) and you have got yourself a winner of a food dish!
Chapeau Yamagata region…. Chapeau.
Most restaurants in town offer it, and some Ikazayas are built around a stone fire pit at the centre, so you will walk into a steaming, meaty, beer-fuelled evening. Don't bother showering before you go out for dinner, as you will smell like a piece of mutton dipped in teriyaki sauce and beer before long anyway!
Culture & Ambiance
The mountainous region of Yamagata is Samurai heartland (check out medieval Yonezawa town just one Shinkansen stop away), and the birthplace of Japan's Haiku master Matsuo Basho. Zao Onsen was not built for tourism but is a well lived-in working town, built around the abundance of hot springs and the spiritual pull of Zao mountain. If you want more than a Japanese deep powder experience, this is the place to come.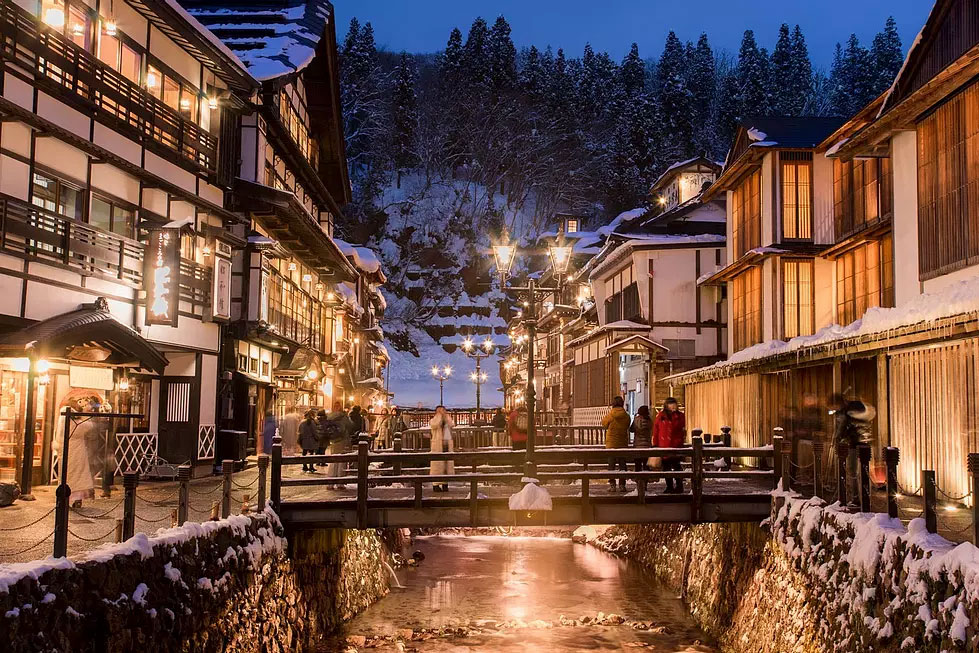 Hop on a bus to take you to breathtaking historical town Ginzan Onsen. Built during Japan's tumultuous Tiashō period (1912-26) the wood town is a testament to Japan's early 20th century commitment to modernity and engagement into trade treaties with China and Korea. Today, only the main street remains fully originally intact, but it is lined with traditional ryokans and stores.
Bus schedules are readily available at the hotels and at the tourism info.
If you are feeling spiritual take a trip to Risshaku-ji, more commonly known as Yamadera temple, that perches quietly atop a peak overlooking the Yamagata valley. After hiking the worn down stone steps, you might feel a few inches closer to enlightenment. If that's not spirit enough, try the Sake museum in Yamagata.
Getting to Zao Onsen Ski Resort
The Shinkansen from Tokyo takes 2hrs 30min and from Sendai 1hr 15min.
From Yamagata station there is a 40 min bus up to Ginzan Onsen (¥1000 one way).
From the main station, you can arrange with your hotel to pick you up with your gear or take a cab to the hotel.
Value
Because of the myriad of tariff options, it can be a challenge to find the best lift ticket price, but you will generally spend around ¥5000 for an adult, full day ticket. This is only marginally cheaper than Niseko, but considering the relatively large resort it is fairly priced.
Due to the lack of large-scale hotel chains, accommodation options are much cheaper and you can find a beautiful family-run ryokan with gorgeous food and a cosy onsen for a very reasonable price. If you are on a backpacker's budget, it may be worth staying in student accommodation in Yamagata and taking the bus (¥1000 one-way) up to ski. Just make sure to catch the last bus back or make some really good new friends.
A high-end ryokan will set you back around ¥200,000 per person for a week, a mid range one will be around ¥80,000 per person per week, but keep in mind this includes food and often a beautiful onsen. Yamagata business travellers and student hotels are much cheaper at around ¥40,000 per person per week, but you have the inconvenience of staying further away from town. If you book early enough and avoid the Chinese new year and Japanese Christmas and New Year seasons, you will be able to find a lovely pension in town at a reasonable price.
Ski Season: Early December – Early May
Snowfall (annual ave): 16 m
Runs (total): 27
Runs (km): 34.8
Lifts: 42
Top elevation: 1661 m
Base elevation 780 m
Vertical: 881 m

Nearest major city: Yamagata
Nearest international airport: Narita International Airport
Transport: Shinkansen, public bus, private transfer

Zao Onsen Trail Map
Zao Onsen Map